Well, this past weekend was the last regularly scheduled racing date for me for the year. I trudged 100 miles down the road to NCM Motorsports Park for round 7 of the Optima Search for the Ultimate Street Car.
I really enjoy this series, and if you remember from my post last December unveiling the car, the point of this entire Ford Probe exercise was to see if it was possible to make it to the Optima Ultimate Street Car Invitational (OUSCI) with a minimal investment.
The car was a true budget build. Junkyard solenoids to revive the VRIS, home-made brake caliper brackets to shoehorn gigantic Mitsubishi 3000GT VR4 rotors onto the front, Ebay exhaust parts, spray paint, Chinese tires, I could go on. All in, the car currently sits at ~$2900 total investment.
After the SCCA Time Trials Nationals, I went over the car. I'd lost a front lower control arm nut. Oops. New one from the hardware store installed with Loc-tite and a lock washer and torqued to the moon. That's not coming off again.
I also was seeing some lower-than-desired oil pressure on my Equus mechanical gauge. It still rose with RPM as it should but it was only ~40psi at 7000 towards the end of the sessions. I decided to drop the pan and inspect the rod bearings, and good thing I did.
Yup, these were shot. We've worn through the top aluminum layer well into the copper. The #6 bearing was badly pitted and was starting to come apart. I caught these just in time. Luckily, the crank journals were perfect. Advance Auto Parts, a title sponsor of the Optima Search for the Ultimate Street Car, managed to get me a set of new Clevite rod bearings in just two days.
Using a plastic spudger you'd use to take apart a cell phone, I carefully removed the old bearing shells, inserted the new ones, and torqued the caps to spec.
Once that was back together, I ran three gallons of cheap oil with Seafoam through it to clean out whatever trash I could, then filled it with some Motul and put a new filter on it. We were ready for NCM.
Once I got to the event on Friday, I was a bit taken aback. Attendance seemed really low. Most NCM events sell out, and this was no different. The registration cap for a USCA event is typically 85. There were 115 confirmed. This being the last event of the season was the last ditch chance to score enough points to get to the Invitational.
53 showed.
More points for me!
Friday was tech and autocross course walking, as normal. Nothing bad there. Got my tent up and tied down to the trailer (Thanks for the ratchet straps, Mac's Tie Downs!), and walked the autocross course. It was a typical course, except for a challenging finish meant to shut us down hard because it was supposed to rain. But in the middle? Basically a 1/8 mile drag strip followed by a hard 180 into a wide slalom, a 180, then straight until the finish, which was two tight 90s.
The next day, it did rain. But it wasn't the inch-per-hour monsoon that had been predicted. It was steady light rain all day. The course was wet the entire time, but we never had standing or running water. The wet nullified some of my competitors' horsepower advantage, but that giant straight gave it all back. I was losing two seconds to Tara Johns just in that straight section alone.
Despite the wet, the Probe was hooked up. Nearly flat through the slalom, and 1.6-2.0g in the hairpins. I just didn't have the power to pull out of the features like everybody else:
Last in class, but not last at the event. Not by a long shot.
The Road Rally was WET. The rain picked up a bit and I had fun dodging the fusillade of Optima stickers in the road. Everybody's car had been wet when we had to apply our stickers, and they never really dried out. After a day of autocrossing and now a 30 mile drive with the wipers, the window banner stickers were being peeled off of windshields and flying off. If one came off a car in front of you and you hit it, it was like hitting a cartoon banana. These things are slick when wet.
The next day was the main event, the Hot Lap Challenge (and speed stop). Unlike the day before, it didn't rain. The pavement was all damp due to the previous day, but there was a breeze, and by lunchtime, it was dry.
I managed second to last in the Speed Stop. No surprise there. That feature is won by whoever has the most power and the best ABS. That's not me. I have the least amount of power, and I haven't had time to revive the ABS in the Probe yet.
But the track? I continued my work from TTNats. My first session, still on damp pavement, was a 2:39, even with traffic. The second session was a 2:35.8 with my friend Tom Farrington following to learn the line. He managed a 2:35.9, a huge improvement over his first session 2:42.
The third session, I set a new personal best of 2:35.4, and Tom was still behind me. He set a good gap during his second lap and put down a 2:31, catching me and passing in the front straight right before the checker after my transmission popped out of gear exiting the esses onto the front straight. Doh.
I went ahead and loaded up the car, bypassing my final session. The transmission popping out wasn't going to get better on its own, and I'd completed the event.
But Tom went back out and crushed it. A 2:27! He ended up third in GTV because of that lap time. And he won the Participant's Choice Award, and was just a few points away from second in GTV, which would have landed him an invite to OUSCI. Which sucks, because I like hanging out with Tom.
Oh, and D&E! I was 27th! It was by far my best D&E performance of the year. The judges loved the car, and I managed to get my whole spiel done in the time allowed.
All in all, I was last in GTC again, but I was 27th overall in autocross, 28th on the road course, and 27th in D&E, totaling 383 points for the event. My season total was 1,066 points. I moved up from 6th in GTC overall to 4th.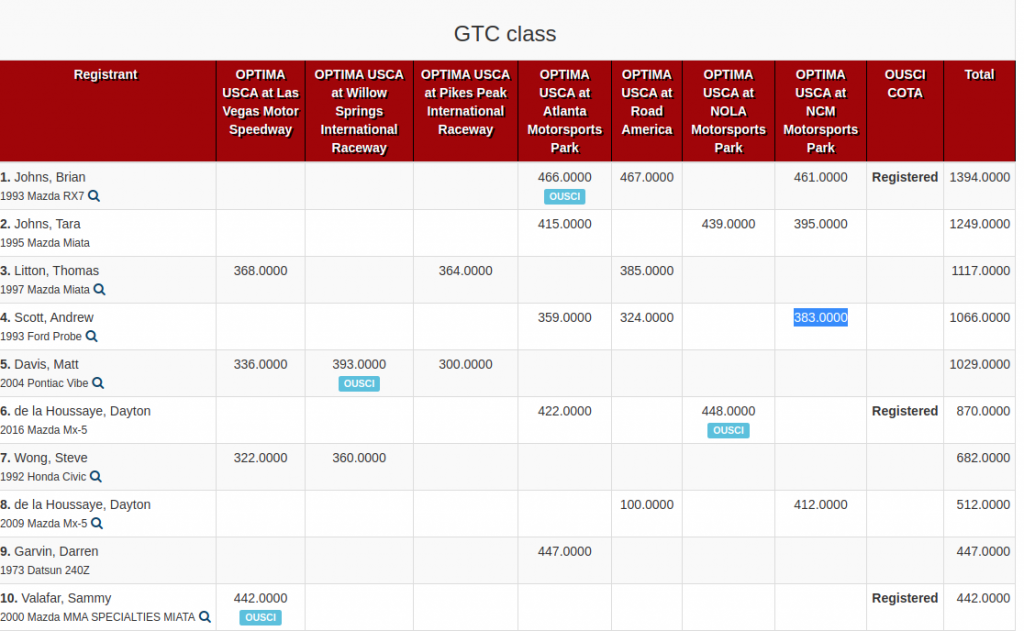 So, the way the Optima Invitational works, if you win your class at an event, you get invited. If you finish second, and the driver ahead of you already has an invite, you get it, and so on so forth. Seven invites per event for seven events gets you 49 drivers. That's not enough.
So, the next three drivers in each class ranked by points that don't already have an invite get one to fill out the field. Then the next ten regardless of class. Then they add in the Golden Ticket cars, which in a normal year they pick by scouring the SEMA show floor to find something that looks badass and ask them to see if their car can back up the looks.
Well, if you look at the final season points in the picture above, you'll see clearly. Brian Johns got his invite at Atlanta. His wife Tara was right below him with no invite, she gets one. Thomas Litton is next in line in 3rd place so he got one, and in 4th? Me!
I got my confirmation this morning from Optima Jim: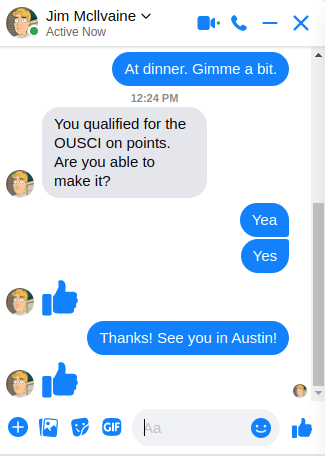 The experiment is complete, and the answer to the question, "Can you get to the invitational with a minimal investment?", is YES. With a reliable car that handles well, competent driving, and going to at least three events, you can get into the big dance with a modest, even cheap, vehicle. And that's a big deal. This series is fun. The people are awesome. The sponsor support is fantastic. This series opens doors, and hanging out with this crew is worth it. On top of that, we now know you can get into OUSCI without spending $100,000.
You can't show up with a piece of crap. Your turd must be very polished. But you can do it.
So, the Probe is going to COTA! Yes, with SEMA cancelled, OUSCI was moved to the Optima Hi Performance Expo, at the Circuit of the Americas November 1 – 3. This is another big deal. COTA is a world famous circuit built for Formula 1. The expo is providing an outlet for a lot of pent-up car stuff demand because SEMA didn't happen. There's a car show, a World Championship Autocross with a $25,000 purse, some off-road-y stuff, and the OUSCI, all packed into one weekend.
I probably won't sign up for the World Champ Autocross. I wouldn't win it, and it's a $250 entry (the entry fees are what make the purse, the winner's getting the gate). I'll probably use that day to see all the sights and talk to people. Low stress.
The OUSCI will be the 2nd and 3rd. I will be running that. And the autocross pad at COTA isn't very big. That means a tight course. That means autocross points for the Probe. That means not only did the Probe make it to the invitational, we have a good shot at not being last place.
So, the Probe needs a thorough cleaning. It's filthy. The tires are going to get flipped, and I'm going to make some solid motor mounts for the engine to see if that fixes the gear-popping-out issue. I couldn't make it do it on level ground once I got home, and it popped out during some pretty hard maneuvering. I think the lower rear mount is torn. There'll be another post on that prep, so stay tuned!