She's been together, then apart, then together, now apart again.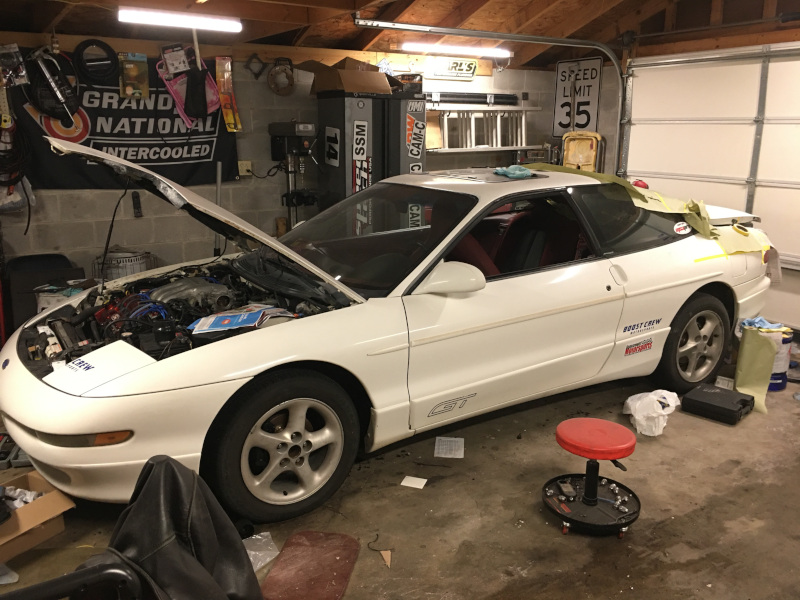 It's sitting on all four wheels most of the time now. The priority this past week was fixing the rusty tailgate so the car would be watertight again, and I could reattach the factory spoiler.
The repair started with a trip to Cody's. He has a parts car. I helped him push his KOTH car off a trailer and into the garage, and he let me cut parts off his car.
Having these two chunks covered most of the rust on the outside of the car, where the hard to form curves are. A week of cutting, grinding, welding, grinding, painting, sanding, filling, and painting got me from this:
To this:
During periods while I was waiting on paint to dry, I also dove into the power steering pump. It was leaking.  It was tricky removing it, but I got it out and rebuilt it with a new seal kit.
I also managed to get the old tint off the rear glass without destroying the defroster lines:
Check out my Google photos album for even more pictures of the progress!
Next up will be re-fitting the factor spoiler/wing and fabricating an air intake, then a full, front-to-back detail. This thing needs to be as cosmetically tip top as possible. Suspension, wheels, and tires will be happening in February. Turbocharging in March, and the first Optima event in April. It's an aggressive schedule. Stay tuned!